Provider Profiles
---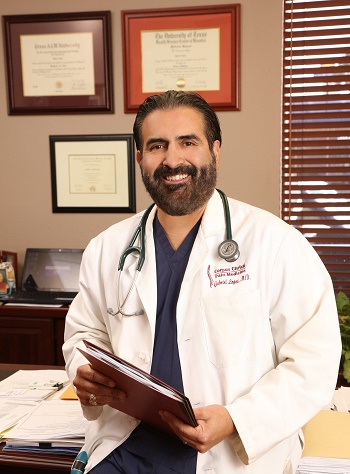 Gabriel Lopez, M.D.

Dr. Gabriel Lopez was born and raised in Houston, Texas. He graduated Cum Laude from Texas A&M University, College Station with a Bachelor of Arts in 1996. He received his M.D. from the University of Texas Medical School in Houston in 2000. He completed his residency in Anesthesiology at Loma Linda University Medical School in California in 2004. He then completed a Pain Medicine Fellowship at the University of Texas Health Science Center in San Antonio in 2005. Dr. Lopez is certified by the American Board of Anesthesiology in Pain Medicine.

Dr. Lopez is a member of numerous professional medical societies including the Texas Medical Association, Texas Pain Society and the Nueces County Medical Society. Dr. Lopez is fluent in both English and Spanish.

Dr. Lopez is adjunct faculty with the UTHSC in San Antonio Pain Program and actively involved in teaching Pain Fellows. He has a special interest in Spinal Cord Stimulation, and Ultrasound guided procedures for pain. Dr. Lopez helps train fellows in the use of neuromodulation and has helped co-author a paper in the Journal of Neurosurgical Review titled, "Minimally Invasive Lumbar Decompression for Spinal Stenosis."
Kristin Lucio, FNP-C
Kristin Lucio, FNP-C is an Advanced Practice Nurse Practitioner at Corpus Christi Pain Medicine who works closely with Dr. Lopez to provide exceptional patient care. She originally obtained her undergraduate degree at Del Mar Community College, in Corpus Christi, Texas, where she received an Associates ofScience in Nursing. While working in the Emergency Department as a Registered Nurse for many years, she went on to earn her Master ofScience in Nursing with a sUbspecialty as a Family Nurse Practitioner through Texas A&M Corpus Christi. Kristin is a Board Certified Family Nurse Practitioner and licensed in Texas. Kristin plans to pursue her Doctorate in Nursing (DNP) in the near future.
Kristin is an active member of her local APRN chapter for the Advanced Practice Registered Nurse Association as well as the American Academy ofNurse Practitioners and a member of Sigma Theta Tau International.
When Kristin is not working, she enjoys spending time with her husband and three boys who are all involved in various sports. The variety ofsports keep the family busy juggling practices and games year round.
Specialties
American Academy ofNurse Practitioners
Advanced Practice Registered Nurse Association-Coastal Bend Chapter
Sigma Theta Tau International-Honor Society of Nursing

Education
Del Mar Community College-Associates in Applied Science-Registered Nurse Texas A&M Corpus Christi-Master ofScience in Nursing, Family Nurse Practitioner